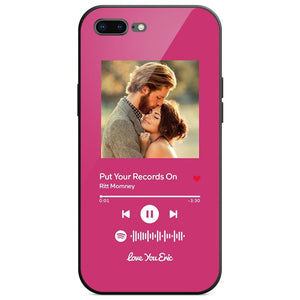 Description

Material:?glass shell

You can engrave the Spotify code of your favorite song and text on the?phone case so that you can scan the Spotify Code to listen to your favorite song anytime, anywhere.

You can fill in the name of the song and the name of the artist, and it can be used to decorate your phone also.

It will be a perfect gift for music lovers.

Bring the most special song to the most special person to you!

IMPORTANT INFORMATION:

- A custom-made phone case with the song of your choice. Make sure to include the artist/band that the song was written by on the personalization field when placing your order.

- The plaque itself does NOT play music, you have to scan the code on your Spotify app.

- Please allow 3-5 business days for your order to be made!